As many of you know, we put a TON of work into our house over the last couple of weeks trying to get it ready to sell. We put it on the market late Thurdsday night and had our first showing on Saturday. We had three other showing on Sunday and we have one today. The good news is that the people who came through on Saturday loved it so much they came back on Sunday and put an offer on the house. Nothing has been accepted yet, but I am thrilled! God is so good!!!
The girls have off of school today so we are going to head to the library. I need to get a new book and they need to get some reading done for school. I have already finished Divine by Karen Kingsbury and it was very good. I had a hard time putting it down. I do have to admit though, as much as I loved the book, the end was a tad slow. I didn't fly through the ending like I did the rest of the book. If you are looking for suggestions for children's books, I have a fabulous author to suggest. K is reading a book by Bill Wallace and LOVES it.
Last night I was fortunate enough to find some time to make a few cards. I am hoping to get some scrapping done today too. Here is one of the cards I made last night.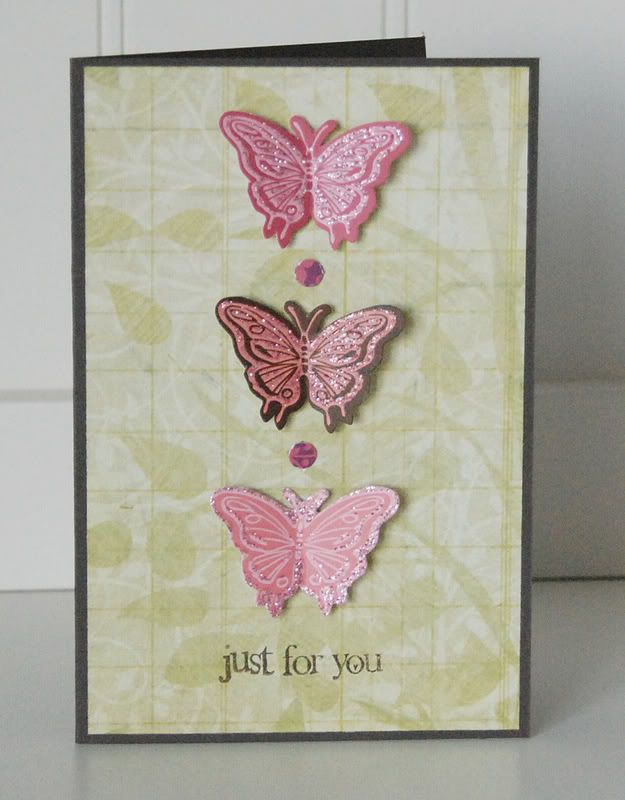 I added half a pop dot under each of the butterfly wings to keep them from going flat. All the paper and stamps can be found at
Emma's
.
Have a wonderful week and stay warm!